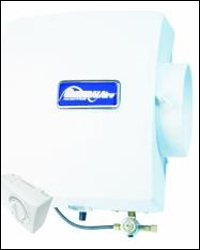 Breathe healthier with a GeneralAire® Elite 570 Humidifier.

Your furnace sends warm air through the unit and a water-soaked Vapor Pad, evaporating water within the Vapor Pad. Newly-moistened air is then delivered throughout your home via your home's duct system.

Features:
Included: Our MHX3C Manual-Control, Duct Mount Humidistat - For Home Sizes up to 2,000 Sq. Ft.
Patented water distribution system for maximum evaporative performance.
Ultra-violet stable automotive-grade plastics.
Integral humidity control bypass damper, transformer, solenoid valve, Vapor Pad, saddle valve, GDV3412 Code Valve, and the industries first Automatic Digital Temperature
Compensating Humidistat. Note: GDV3412 Code Valve offered with automatic models only.
Bypass humidifier mounts easily on the warm or return plenum and delivers 12 GPD.