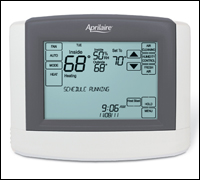 Total comfort and control are just a touch away with the Aprilaire Model 8620 touchscreen thermostat. Along with precision temperature accuracy and effortless programmability, the 8620 gives you options for controlling the remaining aspects of indoor air quality—humidity, fresh air and air purity. All that, and it is simple to use!

The Aprilaire Model 8620 Thermostat: Saves you money on energy costs: Set back the temperature overnight and when you are away. A programmable thermostat can save you up to 30% on energy costs annually. Offers Event-Based™ Air Cleaning: When paired with a Whole-Home Aprilaire Air Purifier, this feature allows you to clean your home's air on your terms. Offers humidity and air freshness control options

The Aprilaire Model 8620 Thermostat is a programmable touchscreen thermostat that allows you to achieve total comfort throughout your home by controlling various aspects of indoor air quality in addition to temperature. It works with any heating and cooling system and is installed by a local HVAC professional.

When paired with the appropriate Aprilaire whole-home air quality solution, the Aprilaire Model 8620 Thermostat can be configured to control air purity and one of the following: humidification, dehumidification or ventilation.

The Aprilaire Model 8620 Thermostat is easy to program and helps you save money on energy costs by allowing you to set back the temperature during the night or when you are away. Multiple hold options maximize comfort and energy savings:
Vacation hold
Custom-timed hold
Permanent hold
Temporary hold
Digital Touchscreen Control
The Aprilaire Model 8620 Thermostat has a large 10.3 square-inch touchscreen, featuring an exclusive message center that makes programming and setup effortless. It provides real-language instructions and information—no codes to remember, no manual to reference.