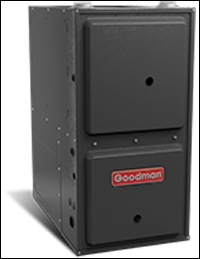 GCVC96 Modulating Variable-Speed Gas Furnace includes the following features and highlights - Heavy-duty aluminized-steel, tubular heat exchanger, Stainless-steel secondary, heat exchanger, ComfortNet Communicating, System compatible.

Uses ComfortNet communicating, two-stage or single-stage thermostats. Self-calibrating modulating gas valve auto-configured for each installation. Quiet variable-speed induced draft blower or cooling demand.

Self-diagnostic control board with constant memory fault code history output to a dual 7-segment display. Durable 110-volt Silicon Nitride Igniter. Colour-coded low-voltage terminals with provisions for electronic air cleaner and humidifier.

Efficient and quiet variable-speed airflow system gently ramps up or down according to heating or cooling demand. Multiple continuous fan speed options offer quiet air circulation Electronic control board with self-diagnostics and provisions for air cleaner and humidifier.

Auto-comfort mode for enhanced dehumidification. Cabinet air leakage (QLeak) = < 2%.